What's New on the Site this week?
October 6, 2020
HOME Page:
Added Picture and information about Fire Safety Week
Updated Call Summary
LATEST NEWS Page:
No Changes
MTGS/Training/Events Page
No Changes
Life Safety:
Added links to Virtual Presentations
Members Only
Added October Business Meeting Minutes
Fire Safety Week is Here!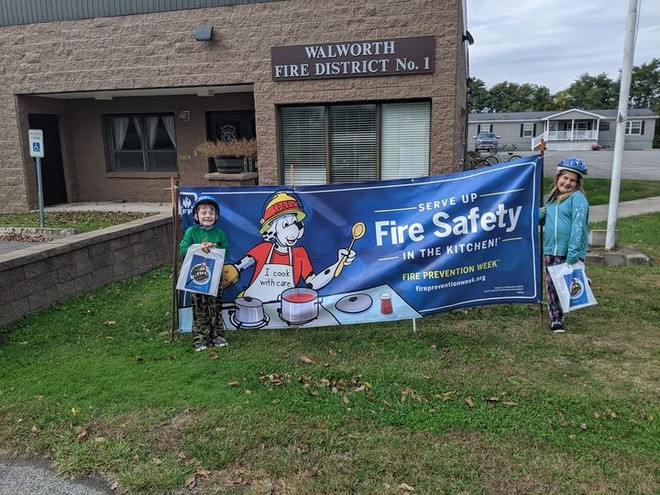 The Walworth Fire Department kicked off the 2020 Fire Safety Week with a a Children's Fire Safety Week Goodie Bags on Saturday, October 3rd. We passed out some pretty neat stuff to 21 kids that stopped by the Fire Hall.
Current conditions limit crowd size in the Fire Hall so we are sharing Fire Safety and general Fire information virtually this year. Go to our Life Safety page to see some of our recent informational videos. and share with your kids. Follow us on our Facebook page for more timely video release.
Call Summary
Call Summary

Period

Fire

Rescue/Other

Total

2015

60

44

104

2016

60

42

102

2017

86

42

128

2018

88

40

128

2019

49

48

97

Jan, '20

2

4

6

Feb '20

3

5

8

Mar '20

4

4

8

Apr '20

4

9

13

May '20

2

3

5

Jun '20

2

8

10

Jul '20

4

5

9

Aug '20

1

8

9

Sep '20

2

7

9

Oct '20

Nov '20

Dec '20

2020

24

53

77
SEPTEMBER Chicken BBQ Connected with TMobile™!
And now for some amazing news that you may or may not heard about.
The Walworth Fire Department held their final 2020 Chicken BBQ on Saturday, September 19th at the Fire Hall. Drive thru and Walkup service was supported with everyone practicing proper COVID protocol.
The final 2020 BBQ was our second sellout this year! Although this is great news, the real story is the generosity of an unsolicited benefactor!
T-Mobile™ contacted the Department and purchased all 700 dinners without ever tasting one! (Maybe they heard how tasty they are?) The main condition of the purchase was the Department GIVE the dinners to anyone that reserved a dinner or showed up for one of the first come first served dinners. There were 480 dinners reserved and 280 available for walk ins.
700 dinners consisting of 1/2 freshly BBQed chicken ( with our secret special Cornell sauce), salt potatoes, creamy coleslaw, roll with butter and a Texas sized chocolate chip cookie; FOR FREE!
But wait, there's more! The first 70 cars coming through the drive through received a bag of T-Mobile™ bling. In addition, they provided all of the Department members with pretty neat facemasks and mini bottles of hand sanitizer. A company representative drove from Syracuse to observe the drive thru process and take some photos.
Thank you to our supporters for coming out to the BBQ, it is obvious that we would have had a sell out with or without T-Mobile support. But, their support was unsolicited and greatly appreciated. Thank you T-Mobile!
NOTICE
Membership Applications Now Being Accepted
As everyone slowly returns to normal working situations, our local law enforcement professionals are beginning to perform our required background checks.
If you are interested in becoming a member but were holding off on submitting an application please feel free to submit at anytime.
If you submitted an application previously, you should be hearing from us soon.
Gun Raffle a Huge Success!
The first Walworth Fire Department Gun Raffle was a huge success. Plans are underway to repeat the raffle next Spring. More information will be posted here as we get closer to the raffle date.
The Fire Departments of Wayne Central are looking for some "helpers"... Hydrant Helpers.
New Construction techniques and materials along with the increased use of petrochemicals for carpeting and furniture make home fires grow much faster than they used to. Getting water to a fire in a timely manner is now more important than ever! Every minute counts in our efforts to save life and property.
Keeping a Fire Hydrant clear not only shows that you Care about your Community… it also helps your Fire Department.
Students at Wayne Central are encouraged to work with an adult (to keep everyone SAFE) to clear a hydrant for the winter season. Fill out an entry form available at your School's Main office and drop it off in the fire boot. You can also get the form at www.lincolnfd.org. Pictures and updates are welcome at any of the Facebook pages for Lincoln, Ontario, Union Hill, Walworth and West Walworth or you can send them to ffbob@rochester.rr.com.
Patches and Certificates will be presented to our Hydrant Helpers to recognize their Community Service at the end of the season.
The Walworth Fire Department is a member of FDWC and proud to support its programs at Wayne Central.
2020 BBQ Dates (Saturday):

- May 2nd CANCELED

- Jun 13th*

- Sep 19th

Drive-thru starts at 3:45 until gone!

* Gananda Garage Sale